Jabo
Classic 350
---
Traditional styling.
Open sunny cockpit, the possibility of ordering additional shelters.
Convenient platform aft.
Parameters allow both boats sailing maritime, coastal and inland.
The hull is made of 100% aluminum alloy resistant to marine conditions.
---
We are pleased to present to you the luxury aluminium yacht JABO Classic 350. It was designed by an external design office on the special order of Yacht Shipyard JABO. This is the newest product of our shipyard, for first time produced with the destination of the external market. 
From the beginning of this project the assumption was to create a comfortable, easy to sail classical yacht by using modern solutions of technology.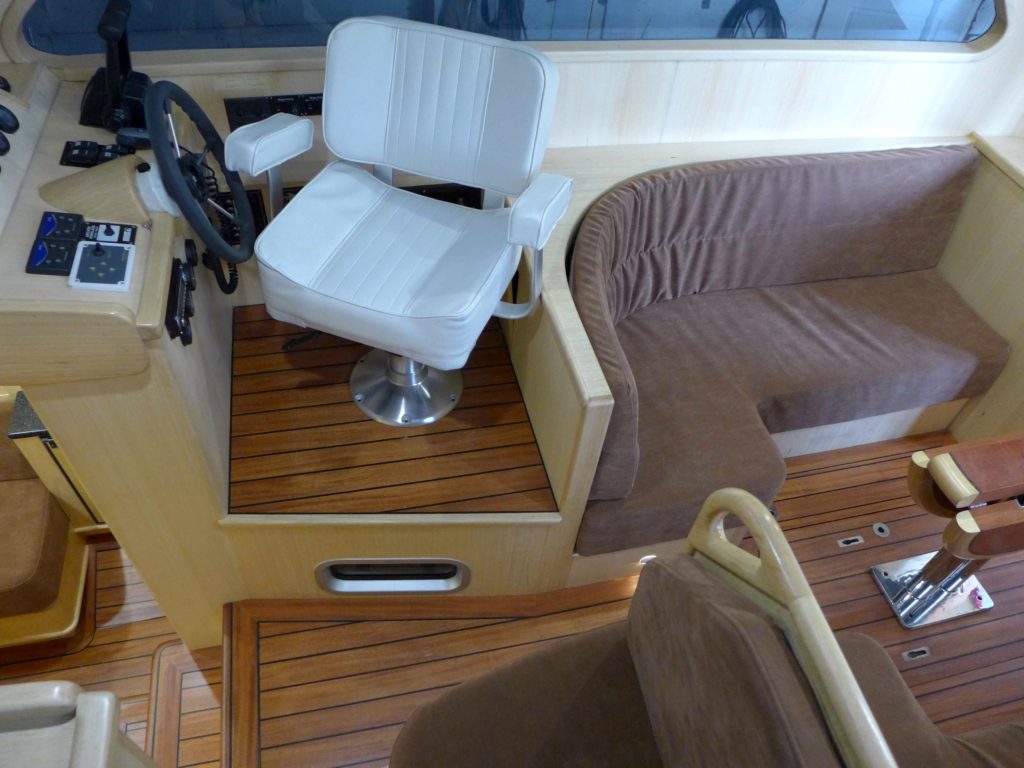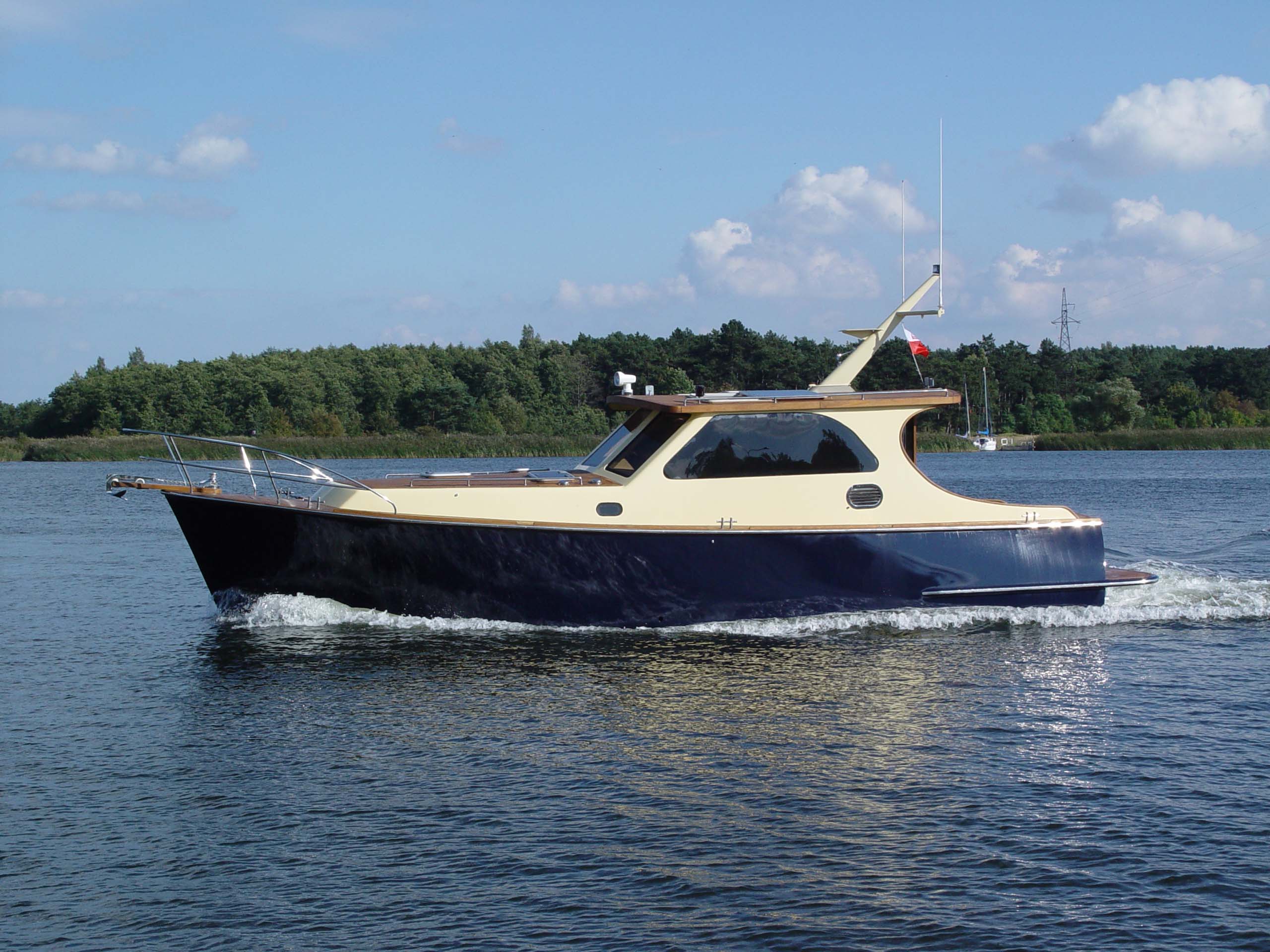 JABO Classic 350 it is a excellent proposal for people who want to have an unconventional luxury motor yacht. Used in its construction, the highest quality of durable materials will satisfy the expectations of the most demanding clients.
---
A classic and elegant silhouette of yacht, an open sunny cockpit and a comfortable stern platform mesh together perfectly, creating a uniform and traditional style. Low displacement on a level of 6.70 tons, and a shallow draught (0.6 m) means that the two Volvo Penta D2 75HP engines will provide optimal comfort during a journey as well as a wide range. These engines will ensure that the journey will be not only pleasant but also economical and unusually quiet.
Thanks to its parameters the yacht allows inland navigation in the shallow and narrow channels of such cities as: Venice or Amsterdam as well as coastal sea navigation.
Do wykończenia przestronnego wnętrza jachtu JABO Classic 350 zastosowano najwyższej klasy drewno egzotyczne koto, czeczotka oraz mahoń.
To finish the spacious interior of yacht JABO Classic 350 we used the highest quality exotic woods such as koto, redpoll and mahogany. The living space was designed with attention to the smallest details. Fully hand-made interiors and furniture emphasize classic character of the yacht and its uniqueness. Two big glazed sliding hatches in the pilothouse allow the entrance of fresh air and sunlight. The deck and cockpit were fully covered with teak wood.
Jabo Classic 350
Main dimensions
Total length: 10,70 m
Length on the waterline: 9,85 m
Width: 3,15 m
Draught: 0,60 m
Displacement: 6,70 t
Fuel tanks: 0,40 t
Water tank: 0,25 t
Speed: 14 w
Hull and deck
Fully welded hull from aluminium alloy resistant to sea conditions, painted in any colour,.
Deck fittings from polished stainless steel,
Railings from stainless steel,
Bow pulpit from polished stainless steel,
Glazed hatches 2 x in the pilothouse, 3 x in the cabins,
Above water the hull is completely isolated by mineral wool,
Sound insulation in the engine room,
Two-spot lightning of the open cockpit,
Navigation lights in accordance with current regulations,
All windows in aluminium frames, in pilothouse 2 x sliding windows,
Wooden fender beam with bar from stainless steel,
4 fenders,
Aluminium mast,
Windscreen wipers in pilothouse,
Stainless steel anchor with anchor chain,
Boatswain storeroom on bow (access from the deck),
Floor finish in cockpit and stern platform made from TEAK wood.
Cockpit
1 x aluminium access door to stern platform,
Hatch cover to engine room manually opens,
Two operable cockpit lockers,
Additional socket 12V,
Fuel filler from stainless steel,
Operable sofas on the stern (upholstered, removable cushions),
Lockers in the cockpit side.
Pilothouse
Floor finish from lacquered waterproof plywood (stripped),
Walls finish from plywood (koto, redpoll, beech, ash),
Ceiling finish – white upholstered panels, wooden slats,
Spot-lightning,
Furniture made from waterproof plywood,
Two wooden tables with legs from stainless steel,
Adjustable upholstered armchair on leg from stainless steel,
Equipment of control console and navigation equipment according to the clients requirements
Equipment of the cabins
Floor in the cabins is made from plywood,
Ceilings in the cabins are made from upholstered panels, with spot-lightning and night lamps,
Upholstered sofa, table in living room on the wooden leg,
Furniture in the cabins is made from lacquered plywood,
Basic equipment of the caboose: sink, gas stove, fridge, air exhaust
Separate sanitary room, interior finish from waterproof material (tiles), sink, shower, toilet with electric pump,
Equipment of sleeping room: bunks with mattresses, bedside cabinets, clothes lockers made from plywood
General equipment
Bilge pump with level sensor,
Electrical installation 12V/external connection 220V (rectifiers/inverter),
Fuel tanks, fresh water tanks from stainless steel and hydrophore,
Sewage tank from stainless steel with level sensor, equipped in installation of rendering sewages with electrical pump
Power transmission
2 x D2-75 VOLVO PENTA with marine gear, drive shaft, and screw propeller with fixed pitch